PRICE :RM 60.00
FREE POS

SEMENANJUNG
New Digital Full Body Digital Therapy Machine For Overall Health and Vitality Right From the Comfort Of Your Own Home
Product Description:
Digital channel therapeutic instrument is a new generation of health product made in accordance with the principles of physics, bionics, electrobiology and the theories of traditional Chinese medicine after many years of clinical experiences and development. It has not only such six simulated functions that make you have the wonderful feelings of acupuncture and moxibustion, manipulation, massage, hammering impact, practice of cupping glass and Guasha, but the unique effect of treating high blood pressure.
About Description Digital Therapy Machine :
Technical parameters:
Batteries: 3*AAA(4.5V)
Size: 15.3*7*1.8cm.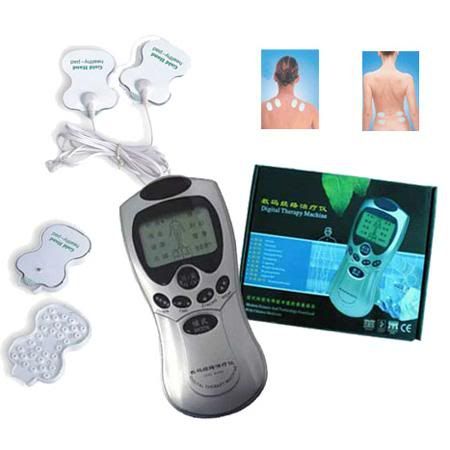 1. Applied with digital technology, this unit transfers the physical factors necessary to the human body into precise digital signals and conducts comprehensive therapy through computer based on the requirements of the body. In this way, the therapeutic accuracy can be ensured and the therapeutic efficacy can be greatly improved.
2. Equipped with large size LCD, on which the intensity, functions , therapeutic time can be clearly displayed both in Chinese and English.
3. The unique deep treatment button can be used to instantly change the output pulse width so that the therapeutic effect can go deep into the skin and flesh , making you more satisfactory .
4. The marvelous waveform composition let you feel a sense of reality of thumping , massage , acupuncture and moxibustion, naprapathy , cupping , scraping .
5. The special immunotherapy function.



Applications
1. It can be applied to various chronic diseases like high blood pressure, hypotension, rheumatics, arthritis, periarthritis of the shoulder, lumber muscle strain, stomach pain, stomachache, toothache, neuralgia, abnormal menstruation, impotence and sexual disorders etc
2. It too can be used for such disorders as overall fatigue, neurasthenia, sore waist and aching back, pain on the neck, the shoulders and loins and so on
3. It also ahs the effect of reducing weight, women's flaccid belly after giving birth to a child, helping enlarging breasts and removing acnes on the face.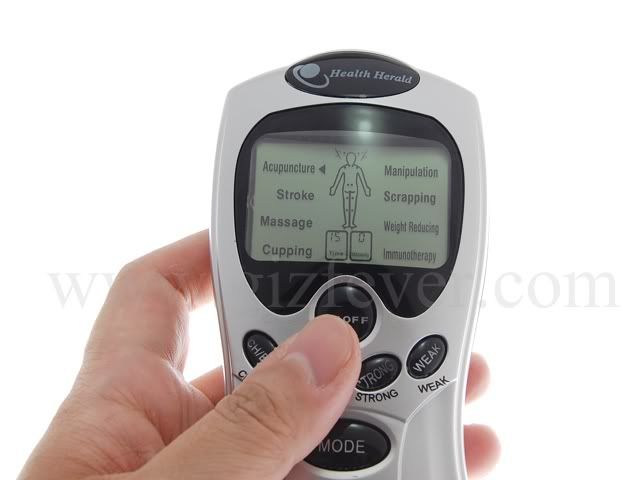 What you will receive:
Digital Therapy Machine Main Unit

Detailed English Instruction Manual

2 Self Adhesive Electrode Pads

Pads Holder

Electrode Pad Connector/Wire

3 AAA Batteries